With our GreenView fertilizers and grass seed, you are receiving the benefit of the same advanced technologies used by professional landscapers and golf course managers.
Our Premium Quality Fairway Formula line offers lawn fertilizers, Weed & Feed, A+ listed grass seed, and Seeding Success products that deliver Professional Quality results you can count on, just as if you had a professional come and take care of your lawn. Our proprietary formulas are specifically designed to help your lawn be the envy of the neighborhood and make the professional lawn guys jealous.
Our GreenSmart fertilizer and weed control line contains a proprietary formula that feeds your lawn for a really long time with slow-release nitrogen in every product. Our Weed & Feed product can eliminate weeds in your lawn in one easy application. In fact, our 4 application bundle is all you need for a great-looking lawn with a crabgrass preventer, weed & feed, summer lawn food, and a fall fertilizer. This simple 4 application bundle = a nice, beautiful lawn all season.
We also offer a base line of general fertilizer products for both your lawn and garden. Products include 10-10-10, 12-12-12, and other blends of nutrient-dense fertilizers.
Visit Greenviewfertilizer.com to learn more.
Featured Product
GreenView Fairway Formula Spring Fertilizer Weed & Feed and Crabgrass Preventer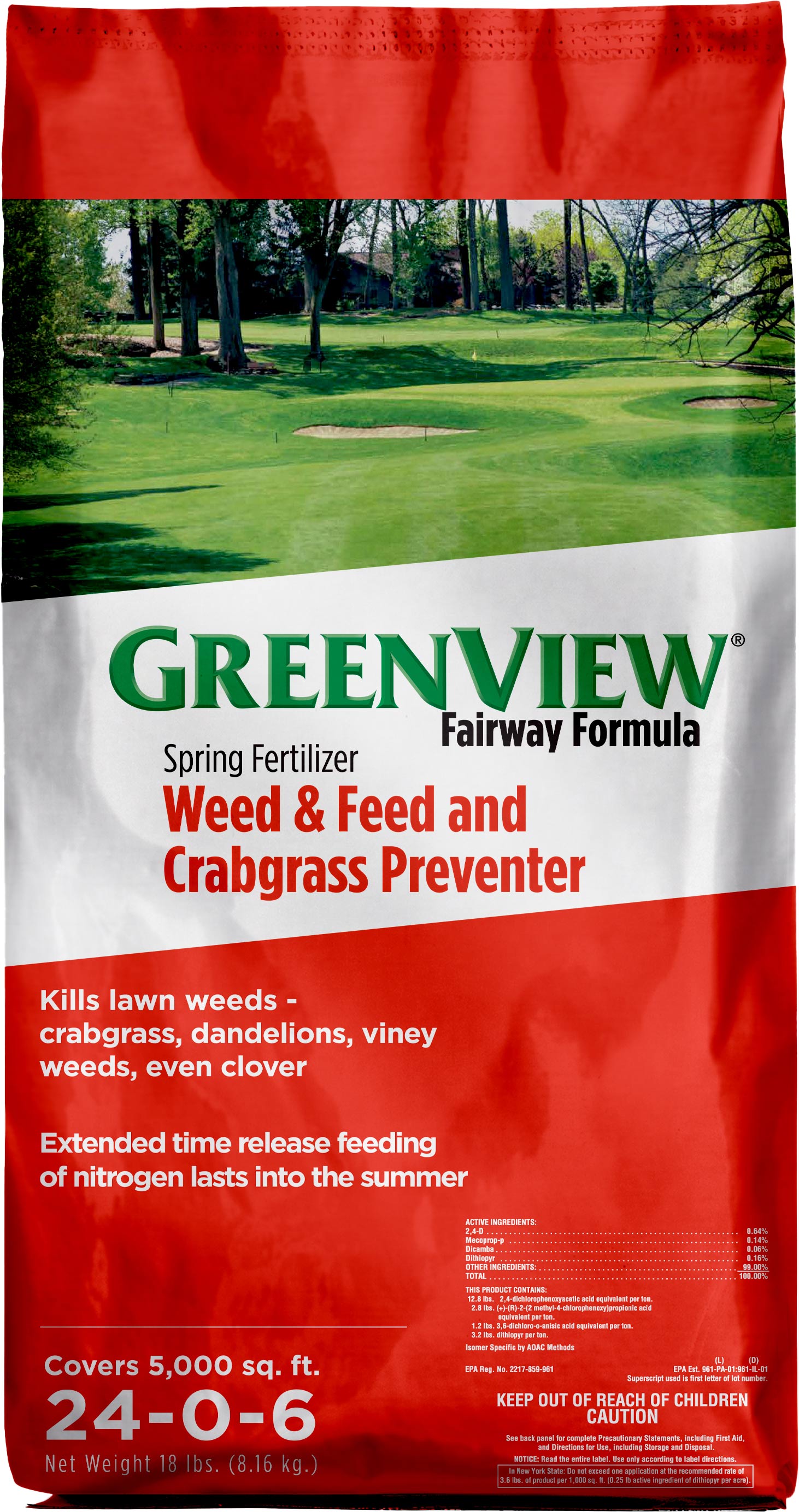 Professional results guaranteed. One application of this pro-grade weed and feed provides the right amount of nitrogen for the entire spring and summer season! Stops crabgrass all season, kills dandelions, plantain, clover and other tough lawn weeds, and feeds your lawn in one easy application. 65% slow release nitrogen fertilizes up to 12 weeks. Slow release nitrogen provides your lawn with controlled, steady nutrition over a longer period of time, resulting in thicker, healthier grass. Eliminates and prevents crabgrass and kills dandelions, clover, viney weeds and over 200 other broadleaf weeds as it fertilizes.
Learn More